How To Use URL Scraper PRO for Social Bookmarking
DISCLAIMER: This article is a training article for the URL Scraper PRO tool. The information shared, while some may relevant to any URL scraper, certain features, functions, and strategies are exclusive to the URL Scraper PRO. Follow the link at the end of this article for more information.
The URL Scraper PRO Training Guide:
Social bookmarking to me, and as much as it has changed over the years, remains one of the most important daily tasks of any marketer, and of the many benefits, I want to highlight the three that I personally use.
1. It builds traffic and gets eyes on your blog posts or website right now by tapping into the communities built around the sites you select.
2. It leverages the PR of other sites allowing you to not only build your blog's authority, but allow you to have multiple listings in the search engines if done correctly.
3. It's a great backlink building strategy, which has several benefits all on it's own.
For those that are new, social bookmarking is simply a method of creating "bookmarks" or link references to websites so that others can see it.
Popular bookmarking sites include Tumblr, Pinterest, Reddit and Stumbleupon, however, there are dozens of social bookmarking sites out there that will give you great results.
This training series will show you how to use the URL Scraper PRO to find and leverage them.
There are basically four types of social bookmarking sites that I recognize categorically; mainstream, PLIGG, PHPDUG, and SCUTTLE.
Mainstream is obviously the sites that are built independently of any mass-shared platform, and PLIGG, PHPDUG, and SCUTTLE are the names of social bookmarking platforms that allows others to run their own social bookmarking sites.
The entire scope of social bookmarking won't be covered here, however, finding quality sites, as well as some personal preferences will be.
General Advice/Warning: While social bookmarking in general is a good strategy, not every site is actually good to use for SEO purposes, and some can actually hurt your SEO, so stick with ones that have a Google PR and Alexa Rank.
Furthermore, I highly suggest you stay away from sites that have no Google PR on their main (root) domain name (which we'll talk about here).
STEP 1: Log in to the URL Scraper PRO.
STEP 2: Enter a search term from the footprint list below, making sure to pick the type of footprint.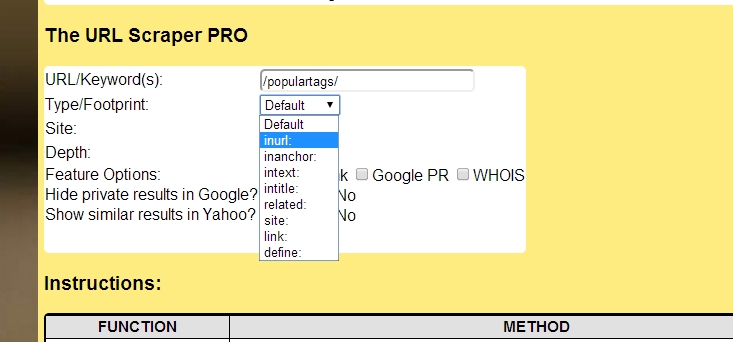 STEP 3: Make sure that Google PR and Alexa Rank options are selected, then press SCRAPE.
After results have been fetched, what you'll get back is a list of those URLs, their Google PR and Alexa Rank.
Many of the sites you get back will have no Google PR (Shown as N/A).
What I suggest you do is:
1. Enter the domain name (ex. somesite.com) in the search field
2. Select 'site:' in the Footprint box.
3. Check the Google PR checkbox.
4, SHIFT-Click the SCRAPE button.
This will give you the information about that URL in a new window and you can see the Google PR of the domain.
Again, this is a personal preference, but I stay away from any site that has less than 1 Google PR.
After, you can export to .csv file the list of URLs from the results, then import into your favorite social bookmarking software.
Here is a list of the footprints you can search for.
NOTE: A footprint is basically a specific search term that gives you the exact results (or near exact results) you want. In this case, the URLs of Social Bookmarking sites.
SCUTTLE:

PLIGG:

I designed the URL Scraper PRO to be more than just a URL scraper, but a powerful tool to add to your marketing arsenal, and the training you'll receive, will cover more than just social bookmarking. The value of what you'll learn here will continue to serve you over and over again for years to come. Follow the link below and purchase the URL scraper today.
How To Get The URL Scraper PRO:
Click here now to purchase the URL Scraper PRO for just $29.95 one-time payment and get LIFETIME access to the Winning Blog Tactics Online Marketing Toolkit, featuring custom-built software that I developed to save time, energy and money, bonus training, and more.