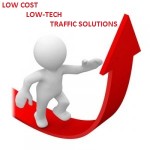 We hear the phrase now in almost any conversation; "the best traffic is free traffic," yet no one ever REALLY tells you what those free traffic sources are. It's like divulging where to go and how to leverage the traffic sources is a matter of national security, and they are the the CIA protecting the identity of an overseas operative.
… and they all give you the same "canned" answers too. Have you noticed?
Well enough is enough. As a small business owner and marketing consultant working from home for the past several years, I'm doing something rather unprecedented for my readers and going to be the equivalent of a double-agent and give away some secrets.
Earlier today on my IT blog I briefly talked about low cost and low tech solutions to generating traffic, however I kinda want to recap here.
Most times when you ask about free traffic sources, as I mentioned you get the same old "canned" answers like everyone's read the same script and are just regurgitating what they've heard. While I don't have a problem with people playing follow the leader, I do have a problem with mindless drones that point other people to become a mindless drone themselves.
I think that's what we call the blind leading the blind… eventually they all fall into a pit.
You hear things like "I share on Facebook," and every once in a while someone will get creative and say, "I used LinkedIn," and almost always you hear someone talk about the magic software they're using…
Mark my words…
There is no solution that can replace the hard work. In other words, the most effective software simplifies tasks that you aready do, not replaces what you should be doing.
And no software can replace sound marketing knowledge, and in most cases, is completely useless without any kind of knowledge. You can't just jump into running a business or promoting any type of product or opportunity without, at the very least, *some* marketing know-how.
Time to spill some secrets…
While I use Facebook and LinkedIn myself, there is also a whole world of marketing out there with tons of traffic just waiting to be directed to your site.
The free guide you're about to download is my own personal strategy that I use for myself as well as my clients. No, there is no sign up or opt in either.
Here's what it talks about.
Local Business Listings
Social Media Beyond Facebook
Web 2.0-based Sites
Bookmarking
Pinging & RSS
Posting Free Classifieds
And more!
It's important to note that this strategy takes about a week to get set up if you're willing to put in the work, however once the set up is done, you never have to do it again, so in just a couple hours a day you can start to drive massive amounts of traffic from free sources and all you have to do is open a browser, type in a few lines and click submit.
Click here now to download the free strategy guide.
All I ask in return is that you like, share or leave a comment on the page.