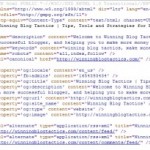 Note: This article is a training article for the Winning Blog Tactics Member Center, and is not intended to be core training on SEO.
The Meta Description Tag is what is displayed in the SERP (Search Engine Results Page) just below the meta title tag of the page. If the meta description tag is not listed, search engines will use the first paragraph on the page below the body tag, which isn't always a good thing.
Most often times, the first paragraph below the body tag is nothing but html code and description, which means that your description may have absolutely nothing to do with the content of your page.
Instead of giving you specifics about length and how it's used for ranking, I want to give you a fresh perspective about the use of your meta description tag.
Ranking in the search engines is important, however writing to attract customers is even more important and things like keyword stuffing will get your site black listed anyway.
Instead of focusing on how many keywords you can get in, thing about branding and the message you want others to receive. In a recent consultation with a client, the focus was understanding the consumer's wants, needs and desires from the perspective of the consumer, then addressing that need in the description.
To give you an example consider these two descriptions.
"We Make Widgets provides widgets of all shapes and sizes to meet your needs. Whatever you need, we can make for you, and we have great deals and affordable rates. Click here."
"Do you need widgets? We Make Widgets specializes in creating widgets designed to meet your personal needs with care an attention you deserve and affordable enough to fit any budget."
Which would you be more likely to click on or respond to?
I know for a fact the second, because those are actual description tags used by a clients who's receiving more conversions through search engines after I had them change their description to "talk to" a person and not "talk about" the page.
Keep this in mind when putting out any printed content including articles and ads.
How long should your meta description tag be? We recommend that your meta description tag should be between 150 and 250 characters long. Again, not all search engines will display all of it, so the bulk of the message should be in the first 150 characters preferably, and as with the meta title tag, curiosity is a powerful factor.
For more information on writing titles and headlines, please see the training under "My Articles" in the member center.